Flexible contact management
Your contacts, always on hand, with notes, tags, tasks and uploaded files.
Plus contact history automatically recorded from calendar events and tasks.
Contacts import and export
Seamlessly import your contacts into FreshFlow from a file (Excel), phone and other sources. And also export them (all or only a selection) if necessary.
Custom views
Set up how contacts are displayed and save the view. You can have multiple views, such as simple and detailed.
Tagging
Tag contacts and then sort them. Create own tags like Product or Service, Region or Phase in your process.
Upload files to contacts
Upload files like proposals, contracts, photos and more in various formats to any contact.
Sharing
Share contacts with a team member or a call center. Each will have the same access to details and notes for each shared contact.
Lending
You can lend contacts to an assistant for a limited time, for example, for a call campaign. After the defined period has expired, the updated contacts return to you and the assistant's access is revoked.
Permanent transfer
Permanently transfer contacts to a team member. Unlike the Lend or Share options, this means that your access to the contacts are completely revoked.
Duplicates and merging
Automatically or manually merge contacts when multiple sets of information appear for the same contact, resulting in duplication, for example, after an import.
Activity history
Calendar events are automatically recorded in the history for each contact (phone calls, appointments with notes), as are tasks to which you have assigned the contact.
Written comments
Write information in the comments section for each contact. These are separate to the notes you capture for an event in the calendar and that appear in the history.
Fulltext serach
Search for keywords in the comments you have captured, eg. "contract". All the contacts with the searched text will appear in your results.
Mobile app
Contact information is automatically synced between the FreshFlow web and mobile apps, irrespective of the one you happen to be using.
Quick and flexible contact views
Sort contacts alphabetically, by next activity date, or using your own criteria.
Set the contact parameters you want to see – create and save multiple contact previews.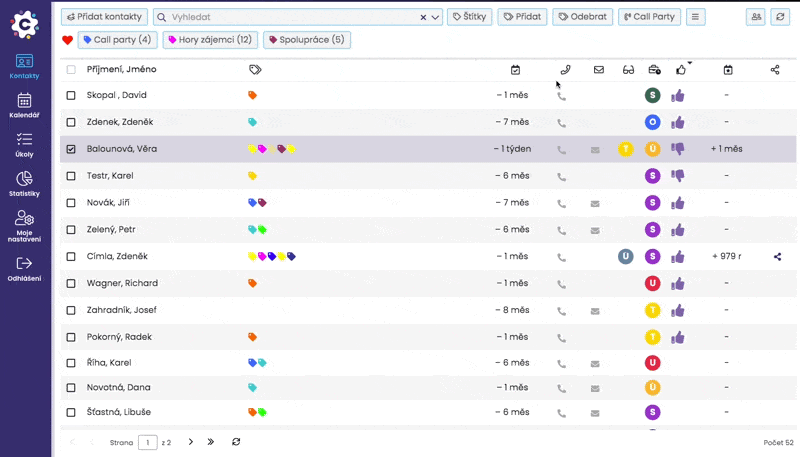 Tasks, projects and files for each contact
In one place – in the contact details – see not only the history, but also the Tasks and Projects you are currently working on for that contact.
Do you also want to see contracts or other customer-related documents? Upload documents, photos or even videos to your contacts.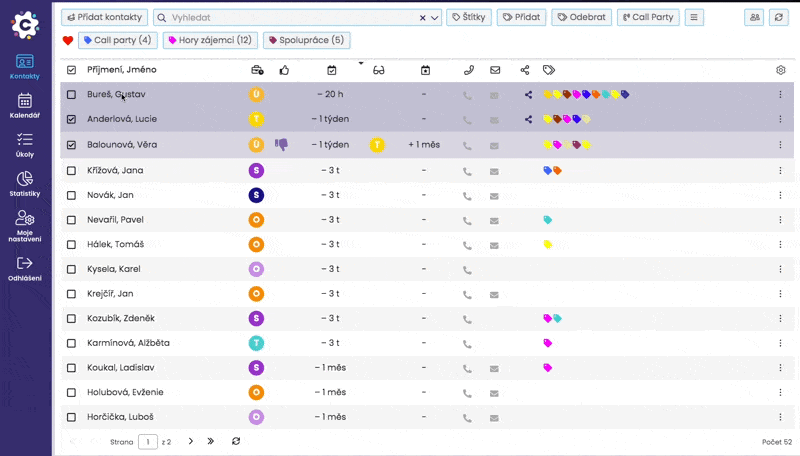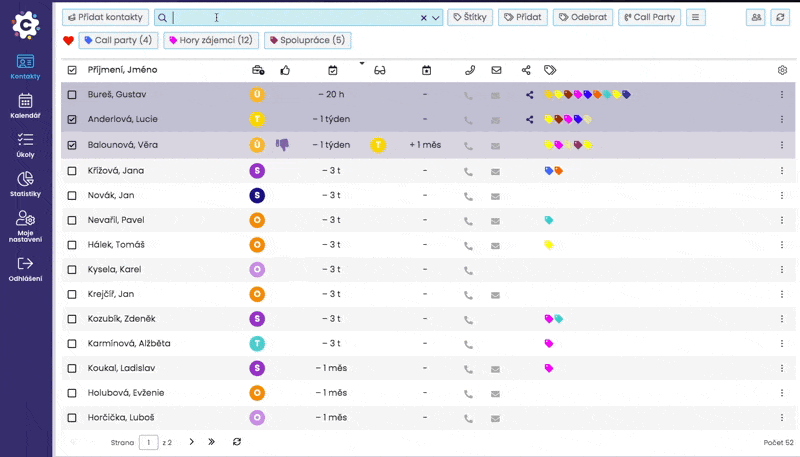 Enter information as comments and search in them later
In addition to notes for Calendar events, you can also enter notes for contacts.
Search for keywords in the comments, such as "contract" or "product XY" – and all the contacts that include the searched text will appear in results.
Tag contacts to quickly sort them
Create your own tags (labels). For example, use the tag "customer" to differentiate between customers who have bought products or services and other contacts.
Similarly, you can create tags for any other parameter you choose. For example, for each product or service or a phase in your sales or service process.
In this way you can easily and quickly select, for example, contacts for a campaign or contacts to share with others.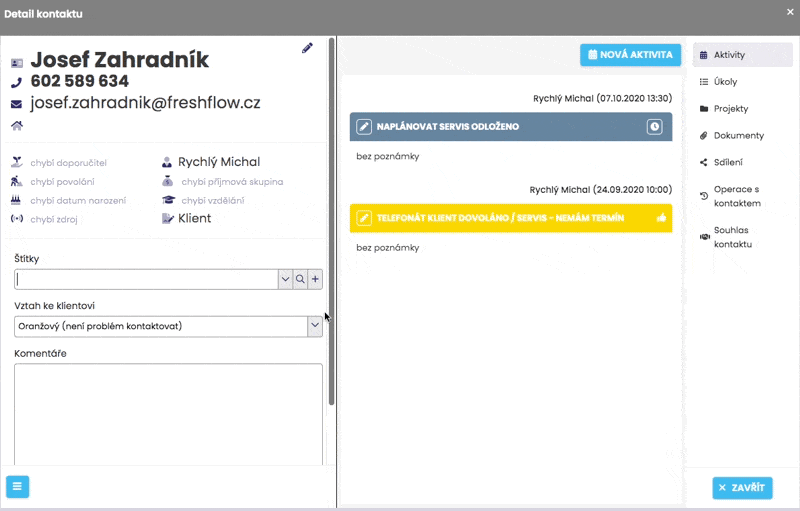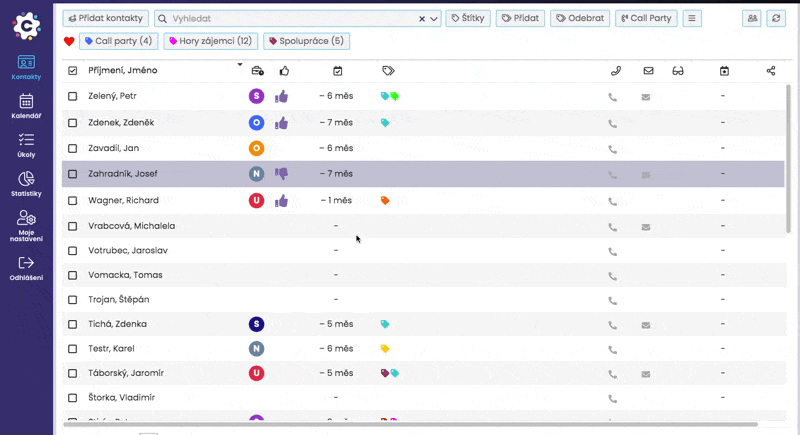 Create events and tasks directly from a contact
You have just spoken to a client and have written some notes. Would you like to schedule a new Appointment and create a new Task?
You no longer have to open your calendar or to-do app – just create the appointment or task directly from the contact detail.
Share, lend and transfer contacts
Do you want to distribute contacts among team members?
Are you hiring an outside telemarketing help for a call campaign?
Does your assistant calls for appointments for you?
Choose one of the three ways they can access your contacts.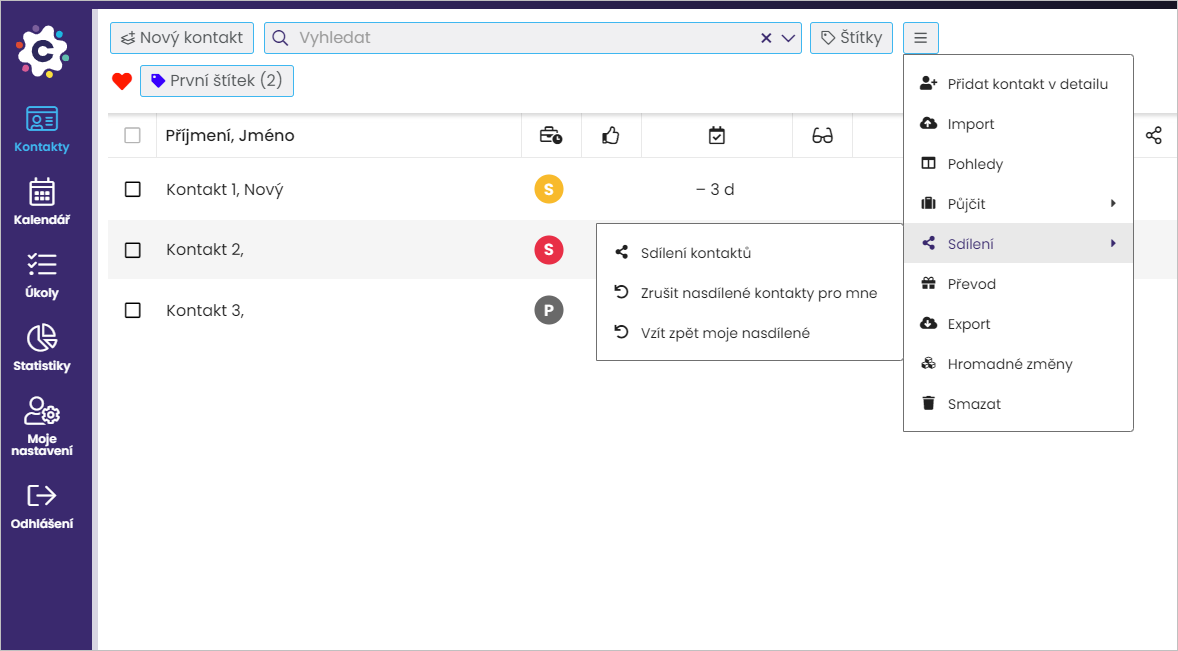 Start with FreshFlow today
With the free version you can share the calendar with another user and manage up to 100 contacts.
All you need is your email address