Save time linking tasks with contacts and displaying them in a calendar shared in your team.
Consolidate multiple tasks into a project and save a template for recurring tasks.
Link with contacts
Link every task to a contact. The task information is then automatically entered into that contact's history. .
Delegate tasks
Do you want to assign a task to somebody on your team? Make them a Solver and the task will appear on their task lists and calendars.
Filtering and sorting
Instantly filter tasks assigned by you, to you, or list them by a team member. You can also sort them by date, or contact.
Uploading files
Upload files in various formats like proposals, contracts, videos, or other documents for each task.
Display tasks in the calendar
Do you want your tasks to show in your calendar? Display them there in addition to the list in the Tasks module.
Projects with multiple tasks
Do you work on multiple projects for a single client? Or multiple tasks to complete a project for them? Group the tasks into a project . View current projects first.
Templates for recurring tasks
Do you follow the same process when working with more than one client? Create the tasks just once, group them into a project, and save it as a template.
Project teams
If multiple team members work on a project, you can create a team only for that project.
Notes for contacts
Capture notes as you complete your tasks. These will appear in the contact history in addition to the activity history, which is saved from the calendar.
Progress status
In addition to deadlines, now also set progress status for quick checks and updates on the stages of completion.
Full text search in tasks
Search for keywords in tasks, for example "contract". You will see all the tasks for which you have entered the searched text.
Mobile app
Tasks are not yet featured in the mobile app, but they are on our to-do list.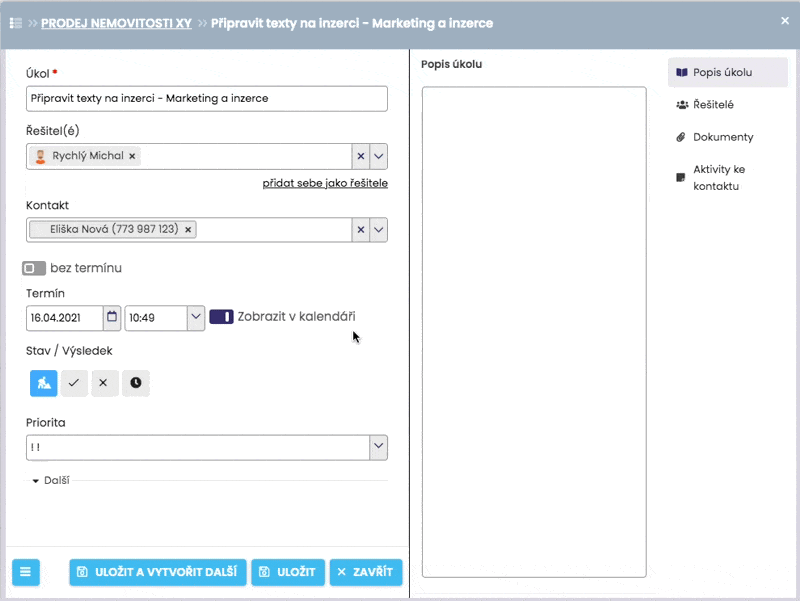 Work in a team – delegate
Every task has its Solver, a person responsible for completion. This could be you or a team member to whom you assign the task.
The nominated team member will receive a notification and can either accept or reject the task.
You than can keep track of who is assigned to tasks and the state of progress of each task.
Attach files to tasks and connect them with contacts
Do you want to have presentations, contracts, orders and other documentation related to a task or project in one place?
Upload files in various formats, whether documents, photos or videos, and attach them to the tasks.
If you link a contact with a task, the task will be displayed in the contact detail.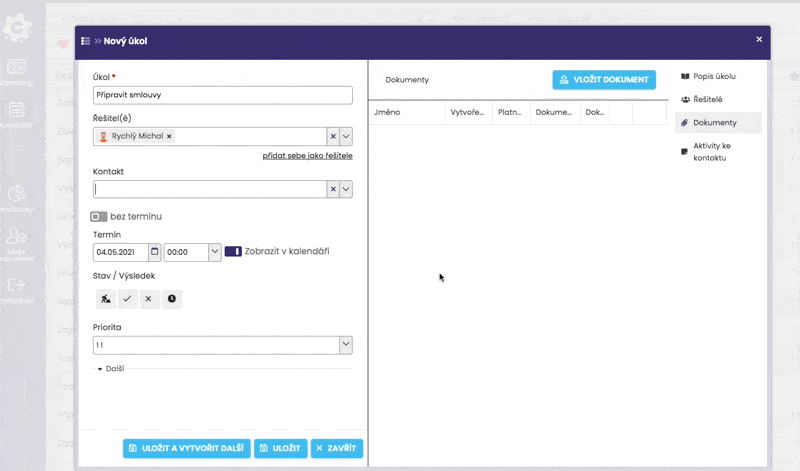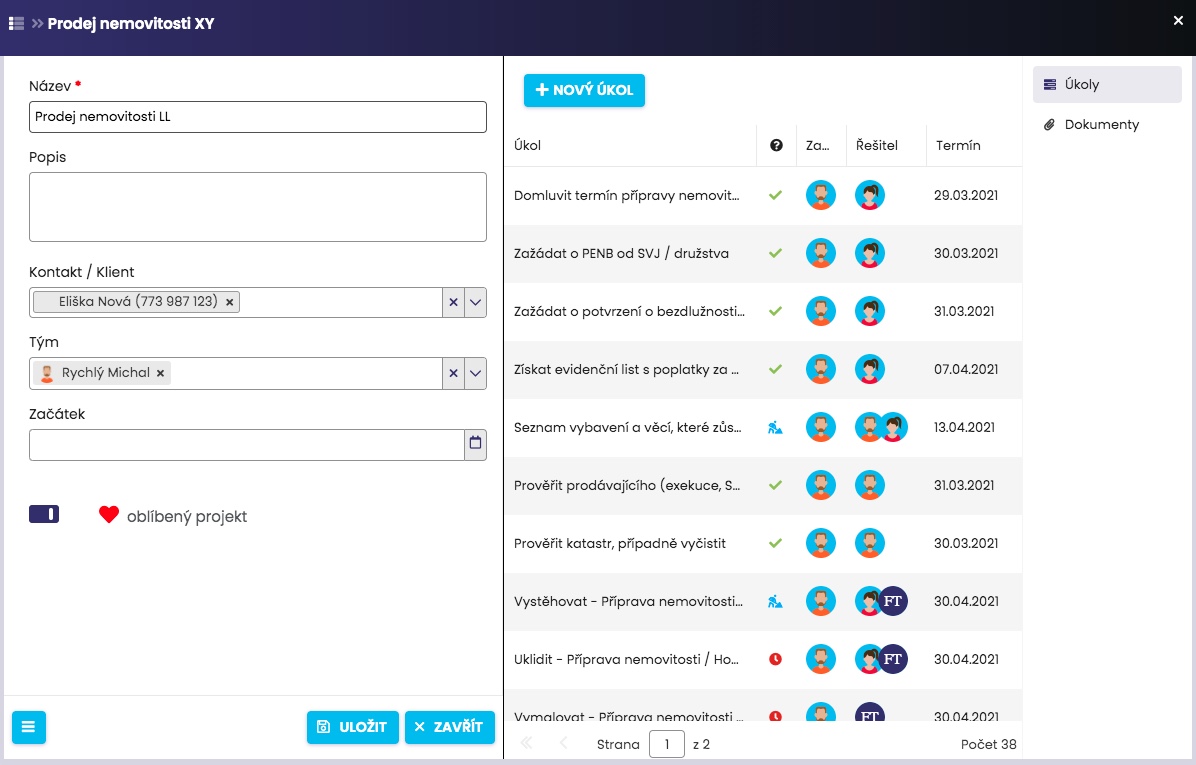 Group multiple tasks into projects
To avoid getting your tasks mixed up, group them and then display them as projects.
Tag work-in-progress projects as favourites for quick access.
Save templates for recurring projects
Some tasks (steps) are repeated for different clients, such as arranging a mortgage in finance, selling a property in real estate or completing tax returns in tax advisory.
To avoid having to make a new list of the same tasks each time, make it just once and save it as a template.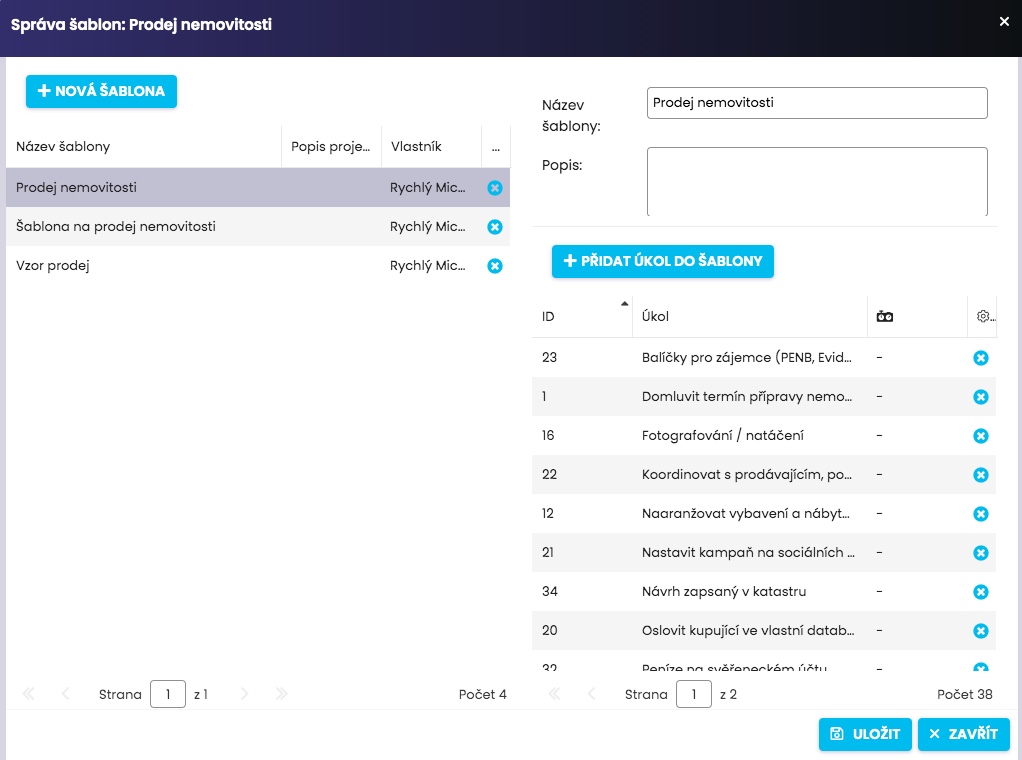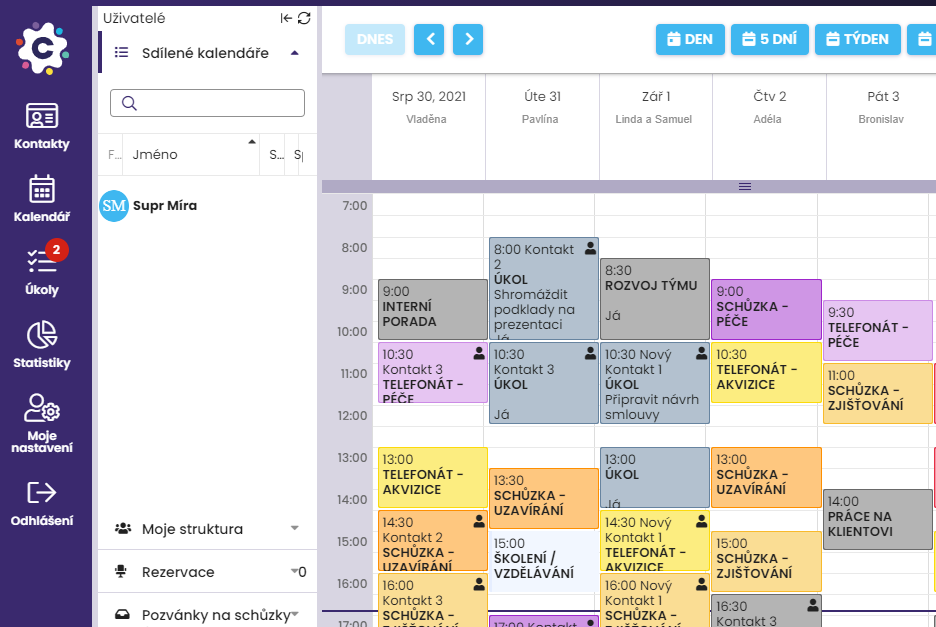 View tasks in your calendar
Do you plan your time in your calendar by also including tasks along with meetings and appointments?
With FreshFlow this is as simple as checking a box when you create a task.
Just create the task once and you will have it in two places. Actually, in three – it will also show up in the detail of the contact assigned to the task.
View tasks the way you want – sort and filter them
Sort tasks in ascending and descending order, for example by deadline, project, Owner or Solver.
You can also filter them – select only those you have assigned to someone, those that someone assigned to you, or those that are currently being worked on by a particular team member or team.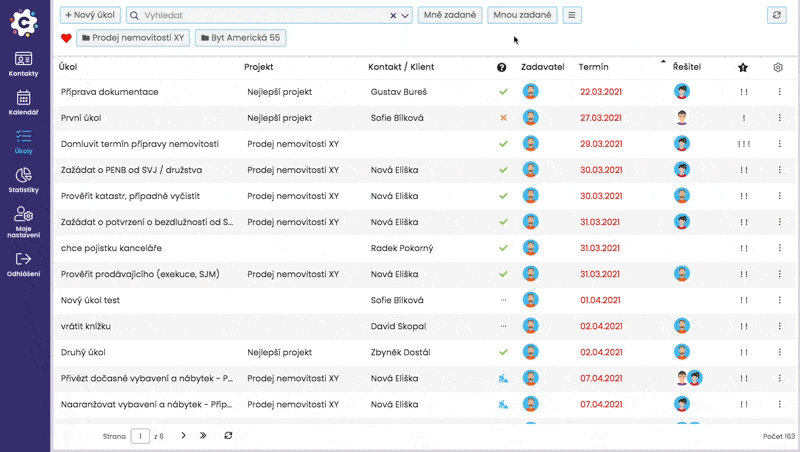 Start with FreshFlow today
It is free for individual users:
All you need is your email address